Geneva, Switzerland, 30 April -27 May 2019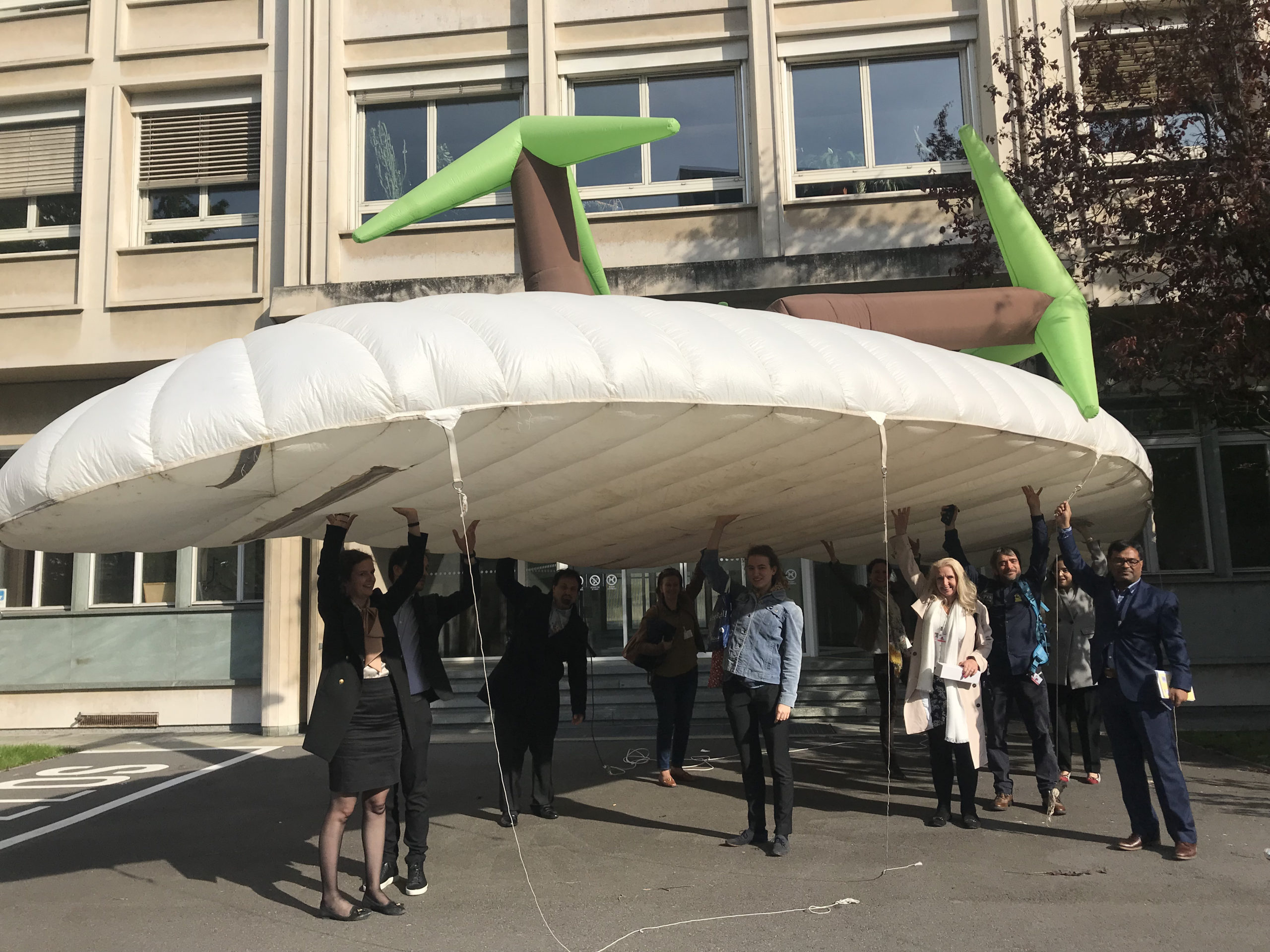 DISPLACEMENT partnered with the UN Office for Disaster Risk Reduction (UNDRR) , the Platform on Disaster Displacement (PDD), and the Norwegian Refugee Council (NRC)  to curate various activities to coincide with the UN Global Platform on Disaster Risk Reduction. This high-level intergovernmental conference brought together UN Member States to discuss their progress toward implementing the Sendai Framework on Disaster Risk Reduction.
Disaster displacement was a prominent theme during the Global Platform. UNDRR, NRC and PDD also launched a guide for states about how to address disaster displacement in their national and regional disaster risk reduction strategies- for which, incidentally, DISPLACEMENT curator Hannah Entwisle Chapuisat was the lead author. (https://www.undrr.org/publication/words-action-guidelines-disaster-displacement)
DISPLACEMENT's activities included a month-long exhibition along the Lake Geneva border, inviting conference participants to carry Søren Dahlgaard's Inflatable Island throughout the Global Platform, and presenting the DISPLACEMENT project on the conference Ignite Stage.
DISPLACEMENT Exhibition, Commissioned by UNDRR
The panel exhibition on the Quay Gustave-Ador on Lake Geneva featured the work of ten artists and collectives: Rhino Ariefiansyah, Amy Balkin, et. al., Søren Dahlgaard, Mary Mattingly, Sidney Regis, Relocate Kivalina, Din Muhammad Shibly, Marie Velardi, Veejay Villafranca, and Chris Wainwright. DISPLACEMENT was honored that the UN Special Representative of the Secretary General for Disaster Risk Reduction, Mami Mizutori, and the Director of UNDRR, Kirsi Madi, attended the opening.
Carrying the Inflatable Island, in Partnership with NRC and PDD
The head of German Humanitarian Affairs, the Secretary General of NRC, and the Envoy of the Chair of PDD also carried the Inflatable Island, along with numerous other conference participants.
Ignite Stage Presentation
DISPLACEMENT Curator Hannah Entwisle Chapuisat and artist Søren Dahlgaard encouraged conference participants to think about how art practice and research could contribute to their disaster risk reduction activities.