Upcoming events

2018 Global Forum on Migration and Development
Marrakesh, Morocco
5-7 December 2018
DISPLACEMENT is planning a series of artistic events during the 2018 Global Forum on Migration and Development, which is part of Migration Week from 5-11 December.  DISPLACEMENT will be featuring the work of several artists to highlight the inclusion of disaster displacement in the soon to be adopted Global Compact for Safe, Orderly and Regular Migration.
More details available soon.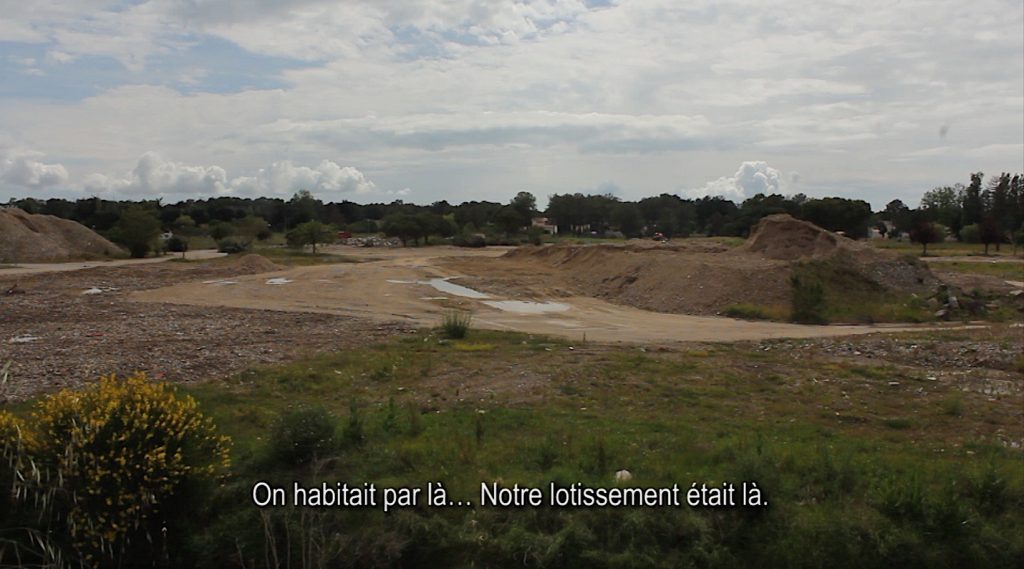 Climate Change Related Displacement and Its Artistic Expressions
Théâtre de l'Orangerie
Geneva, Switzerland
25 August 2018
DISPLACEMENT curator Hannah Entwisle Chapuisat and artist Marie Velardi gave a public talk at the Théâtre de l'Orangerie called "Climate Change Related Displacement and Its Artistic Expressions" (Déplacements climatiques et ses expressions artistiques). The presentation began with an overview by Entwisle Chapuisat of the current legal and political developments related to displacement in the context of disasters and climate change. Velardi then screened her film ALEA, about displacement in Vendée, France following the 2010 storm Xynthia, which she co-created with Indonesian anthropologist Rhino Ariefiansyah. She also presented selected works from her ongoing artistic research practice Land-Sea (Terre-Mer), which explores the idea of moving territories in coastal areas. After sharing the works of other selected artists participating in DISPLACEMENT, they invited the public to join them in a discussion about the potential roles artists and art practice can play in imagining new possibilities for the future and contributing to the development of international policy on disaster displacement.
To read more about the event see (in French): theatreorangerie.ch
The talk complemented the Théâtre de l'Orangerie's production of Henning Mankell's play Ténèbres, about two African refugees who have received asylum in Sweden, which the director Andrea Novicov asks the audience to imagine in the context of contemporary challenges related to climate change and displacement.
See more here: theatreorangerie.ch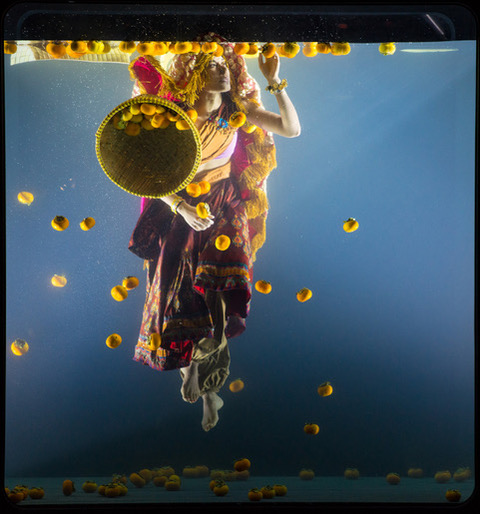 2018 UNHCR Annual Consultations with NGOs
Geneva, Switzerland
29 June 2018
Lars Jan's Holoscenes was screened as part of the side-event "Rights and Resilience: Protecting people displaced in the context of climate change and disaster" during the UNHCR Annual Consultations with NGOs, which brings together some 300 non-governmental organizations from around 90 countries.
DISPLACEMENT's contributions were part of the panel moderated by Atle Solberg of the Platform on Disaster Displacement (PDD). Madeline Garlick of UNHCR gave introductory remarks, followed by presentations from Nina M. Birkeland of the Norwegian Refugee Council (NRC), Reza Chowdhary of COAST BD, Kristen Hite of Oxfam, and Gopal Krishna Siwakoti of INHURED. Chirine El-Labbane of PDD presented the DISPLACEMENT project, and read a statement from the artist Lars Jan.
To read more about the event see: disasterdisplacement.org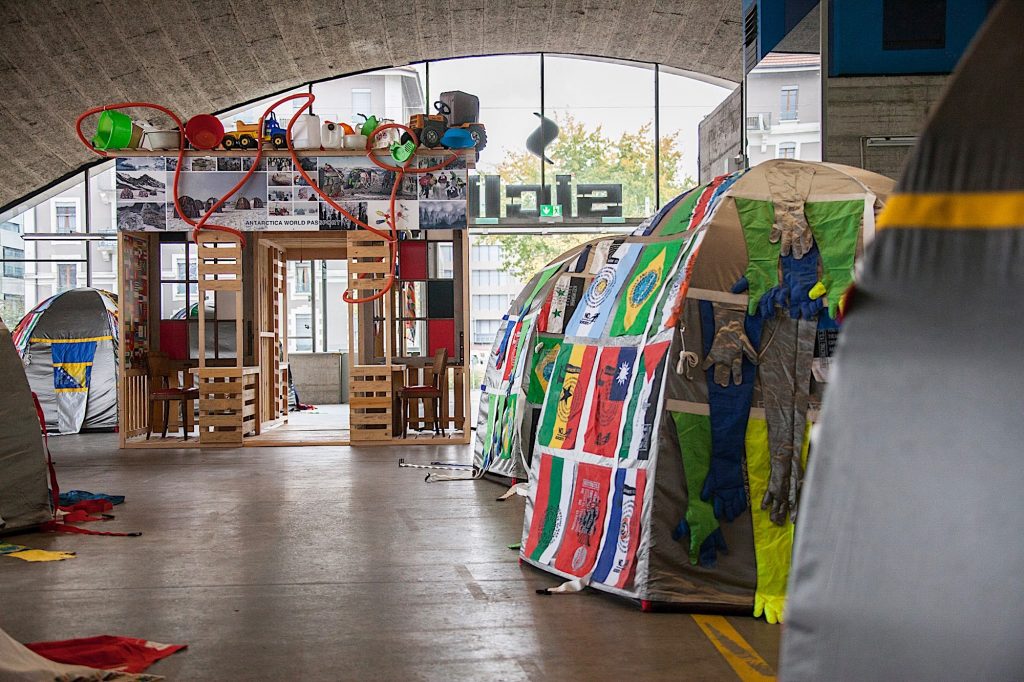 Nansen Initiative Global Consultation
Geneva, Switzerland
12-13 October 2015
DISPLACEMENT developed the cultural programme for the 2015 Nansen Initiative Global Consultation, which included an exhibition Lucy + Jorge Orta's Antarctic Village- No Borders and Antarctica World Passport Bureau for government delegates and the public, and multiple artistic interventions at the conference venue.
Contributing artists: Ackroyd & Harvey, Rhino Ariefiansyah, Gorm Ashurst, David Buckland, Robin Jenkins, Yoi Kawakubo, Vicky Long, Anne Lydiat, Michèle Noach, Lucy + Jorge Orta, Andri Pol, Din Muhammad Shibly, Marie Velardi and Chris Wainwright.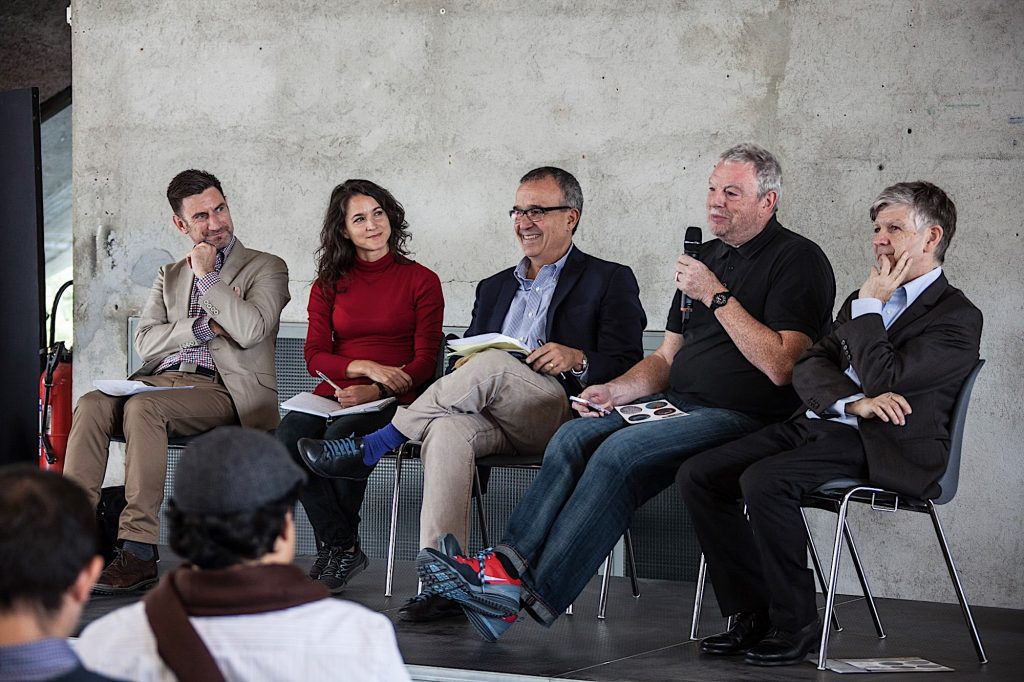 Disaster Displacement, Art and Policymaking Panel Discussion
Geneva, Switzerland
11 October 2015
Public panel discussions between artists, researchers and policymakers discussed the topics of disasters and displacement, and the role artistic contributions can make in policy processes.
Panel participants: Robin Bronen, Bruce Burson, Hannah Entwisle Chapuisat, Dina Ionesco, Robin Jenkins, Walter Kaelin, Lucy Orta, José Riera, Din Muhammad Shibly, Marie Velardi and Chris Wainwright.