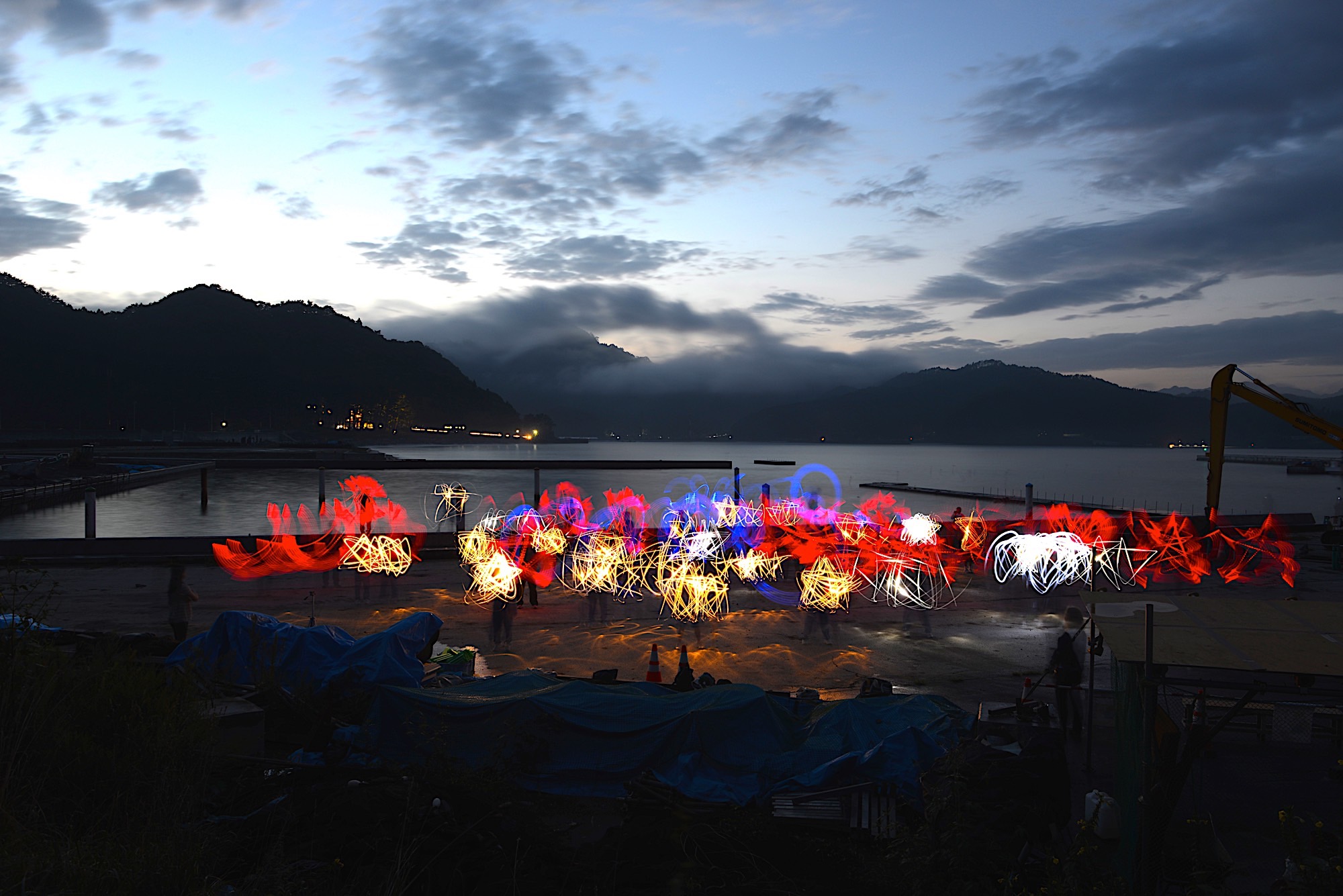 About
DISPLACEMENT continues in memory of Professor Chris Wainwright (1955-2017), whose leadership and vision as lead curator and contributing artist guided the creation and development of the project.
Chris Wainwright was an inspirational leader, academic, artist and activist deeply committed to environmental issues. This commitment led him to all areas of the world, teaching, lecturing and continuing to make his own work around the pressing issues of climate change.
Chris first visited the Arctic as a Cape Farewell Artist, making various artworks, including beaming red light onto floating icebergs. He made several visits to Northern Japan working with survivors of the 2011 tsunami. He created a group performance We Are All Stars on the shoreline with composer Cathy Milliken.  In early 2017, he curated and participated in What Has to Be Done exhibited in the Today Museum, Beijing. The show was the artistic culmination of four voyages around the Scottish Western Isles on the sailing ship Lady of Avenel by groups of artists, writers, collectors and filmmakers from the UK and China.
Chris's passion for the planet dominated his life both professionally and artistically. When he first met Hannah Entwisle Chapuisat and The Nansen Initiative he was drawn to the idea of using art to lobby governments to change their policies and to address the pressing issue of forced displacement due to disasters caused by climate change. Driving DISPLACEMENT: Uncertain Journeys with Hannah, Chris was committed to using art as a way to make people think about the impacts of climate change and how they can take action.
Chris Wainwright (1955-2017) studied BA Fine Art at Sheffield Polytechnic (now Sheffield Hallam University); MA Graphic Design, Birmingham Polytechnic (now Birmingham City University). After graduating in 1978, Chris took on a number of short-term teaching posts and in 1981 he was appointed Principal Lecturer in the Media Studies department, Newcastle Polytechnic (now Northumbria University). The exhibition Futureland, Laing Art Gallery, Newcastle upon Tyne, UK a touring exhibition that Chris along with his lifelong friend and fellow photographer John Kippin,  established Chris's reputation as a major photographer. In 1997 he become Dean of Art at Central Saint Martins, University of the Arts London. In 2007 he became Head of Colleges of Camberwell, Chelsea and Wimbledon Colleges of Arts and was Pro-Vice Chancellor until he stepped down in 2016 to take up the post of UAL Chair of Fine Art.  He also played a wider role in promoting his ideas about art education through ELIA, the European League of Institutes of the Arts (http://www.elia-artschools.org/) He was president of ELIA from 2006 to 2010 working in partnership with the Director and Founder Carla Delfos.
More Information
A huge, warm, affectionate spirit in a strong, rugged and seemingly indestructible body. He loved nature and travel to remote and beautiful places and exercised his powerful creativity with great passion and sensitivity. He campaigned tirelessly for the sustainability of our planet, and his very substantial body of photographic work expresses his values more eloquently than words can express.
Nigel Carrington, Vice-Chancellor, UAL